Maria-Teresa Ronca
Ceramiste et artiste multi-disciplinaire
Morin-Heights, Qc
tel.: (450) 226-6934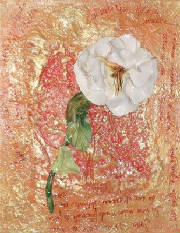 Maria-Teresa Ronca, 2009
Maria-Teresa does hand-shaped ceramic plates, floor mats, watercolour paintings and mixed media artwork. She has been taking art classes for over 20 years.
Now, she concentrates on incorporating poetry within her creations. Her work was written about in newspapers, and she was interviewed on television. In 1996, Maria-Teresa's ceramic work represented Quebec in New York.
She joined Arts Morin Heights in 2005.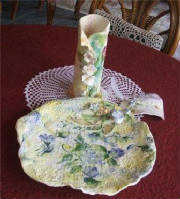 Maria-Teresa Ronca, 2009
Marie-Teresa fait des assiettes en céramique formées à la main, des tapis en toile, des aquarelles et média mixte. Elle a suivi des cours d'art pendant plus de 20 ans.
Aujourd'hui, elle se concentre sur l'incorporation de la poésie dans ses créations. Son travail a été reconnu par les journaux, et elle a été interviewée à la télévision. En 1996, les œuvres de céramique de Marie-Teresa ont représentés le Québec, à New York.
Madame Ronca s'est jointe à Arts Morin Heights en 2005.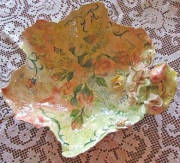 Maria-Teresa Ronca 2009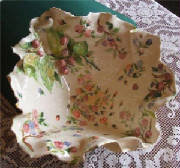 Maria-Teresa Ronca 2009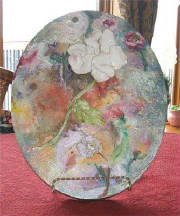 Maria-Teresa Ronca, 2009
Soulier de dame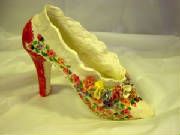 Maria-Teresa Ronca, 2011
3D mixed media & ceramic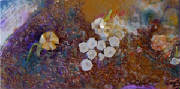 Maria-Teresa Ronca, 2011
3D mixed media & ceramic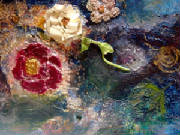 Maria-Teresa Ronca, 2011
Floorcloth made with durable canvas & acrylic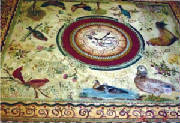 Maria-Teresa Ronca, 2011