Alaska Mountains, 2012, 9x12
Alexina Wiegand
Pastels
Harrington, Qc
tel.: (819) 687-3016
e-mail: rudolf_and_alex<at>hotmail.com
Cliquez les images pour agrandir / Click images to enlarge
Window Into The Past, 2012, 10x8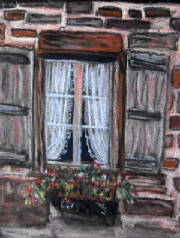 Alexina Wiegand
Alexina was born and raised on a farm in the Laurentians. She has been painting and drawing since she was a young teenager and has become a serious pastel painter. Life in the Laurentians greatly influences her work. Alexina is an active member of several art associations and has exhibited in various locations throughout the Laurentians. Her paintings can be found in private collections in Canada, the United States, France and Germany.
Member of Arts Morin-Heights since 1995.
Log Cabin, 2012, 9x12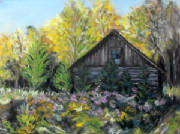 Alexina Wiegand
Alexina est issue du milieu rural et les Laurentides ont toujours influencé son travail. Depuis son enfance, elle peint et travaille le dessein et est maintenant reconnue comme une pastelliste accomplie. Alexina a exposé dans les Laurentides,et en Ontario. Ses oeuvres peuvent être retrouvées dans des collections privées au Canada, aux États-Unis, en France et en Allemagne.
Membre d'Arts Morin-Heights depuis 1995.
Memberships
Pastel Society of Eastern Canada
East Central Ontario Artists Association
Pastel Artists of Ontario
Ottawa Valley Artists Association
Arts Morin Heights
Lower Laurentian Art Tour
Cornwall Regional Art Gallery
Fog In Isles Aux Persil, 2012, 8x10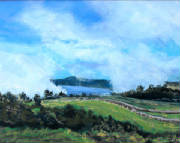 Alexina Wiegand
Exhibitions
PSEC- "Les Pastellistes", 1999 & 2001 (Juried Exhibition)
PSEC- "Pastel Toujours", 1998- 2002
Arts Morin Heights Annual Exhibition, 1995- 2002
Lower Laurentian Art Tour-"Off the Beaten Track", 2000-01
CRAG- Art Exhibition, Feb.2002 (Juried Exhibition)
Mt. Tremblant Route des Art, 1999 – 2002
PAO- "Purely Pastel", 2002 (Juried Exhibition)
Sainte-Agathe-des-Monts,"La Féria Picturale du Québec", 2002
Fall Colours, 2012, 9x12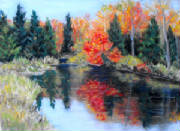 Alexina Wiegand
Black Rocks On Maui, 2012, 9x12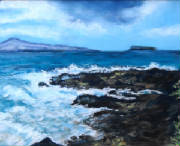 Alexina Wiegand
Alaska Glacier, 2012, 9x12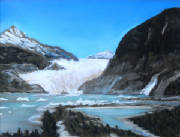 Alexina Wiegand
Alaskin View, 2012, 9x12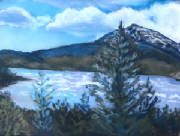 Alexina Wiegand