La valse du modèle, 2007, collage, 26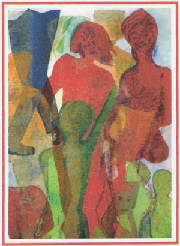 Louise Porter
Louise Porter has been developing her talent for many years. She is basically self-taught, however, has taken courses and workshops in oil, watercolour and pastel painting. Her style is traditional with a penchant towards impressionism. The Argenteuil countryside is her source of inspiration. Light, colour, weather and atmosphere are factors she always seriously considers.
Louise Porter has participated in many exhibits. Her paintings are found in private collections in Canada, England, Italy and Germany.
Louise says: "Art is a lifetime of learning and studying. Sketching and painting on location allowes me to observe and gives me great pleasure."
Member of Arts Morin-Heights since 2002.
A Sugarbush Scene II, Vermont, 2007, oil, 12 x 16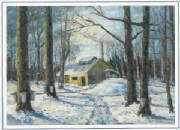 Louise Porter
Louise Porter est peintre paysagiste autodidacte. Elle s'inscrit,toutefois, à des ateliers de peinture à l'huile, à l'aquarelle et au pastel, pour parfaire ses techniques. Elle peint d'une manière traditionelle, les beaux paysages du comté d'argenteuil. La couleur, la lumière, l'atmosphère, et le mouvement sont, pour elle, des facteurs très importants.
Elle a participé à plusieurs expositions par le passé, et, plusieurs de ses tableaux se retrouvent dans des collections privées, tant au Canada, qu'en Angleterre, en Italie et en Allemagne.
La philosophie de Louise Porter : « J'étudie toujours et j'apprends beaucoup en observant la nature. Dessiner et peindre sur le motif me permet d'observer mon environnement et me procure une grande satisfaction. »
Membre d'Arts Morin-Heights depuis 2002.