Dolphins - oil on canvas - 16 in x 20 in
Louis-Michel Veronneau
huile / oil
Morin-Heights, Qc
tel.: (450) 226-1424
fax: (450) 226-1445
Cliquez les images pour agrandir / Click images to enlarge
Fox Acrylic on Slate, 8x16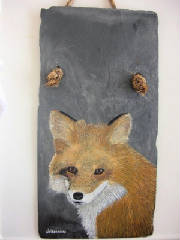 Michel Véronneau
Michel est un artiste autodidacte initié, en premier lieu, à la nature. Il peint des paysages et des arrangements floraux. Mais son sens du détail le mène avant longtemps à peindre la faune. C'est dans ce contexte que l'artiste naît vraiment. Son style figuratif le sert bien car son travail repose sur le soucis du détail qui se reflète dans la justesse du pelage, du plumage et, surtout, dans l'expression du regard.
Exposition en solo à Val-David et Hawksbury.
Exposition de groupe à Morin-Heights.
S'est joint à Arts Morin Heights en 1999.
Cardinals Acrylic on Wood, 8.5x13.5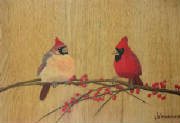 Michel Véronneau
Michel is self-taught figurative artist. His work, at first, was inspired by the nature surrounding him. Landscapes and florals were is main themes. However, his accute sense of detail lead him to focus on animals. Endless hours, patience, a refined technique and disciplined brushwork rendered his subjects ...life-like! But the "pièce de résistance" is really the eye contact that his subjects make with the viewer. Who's watching who?
Solo expositions in Val-David and Hawlsbury.
Group expositions in Morin-Heights.
.
Joined Arts Morin-Heights in 1999.
Groundhogs - oil on canvas - 16 in x 20 in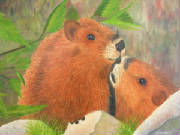 Michel Véronneau
Chipmunk Acrylic on Wood, 8.5x13.5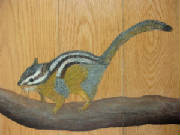 Michel Véronneau
German shepherd - oil on canvas - 12 in x 16 in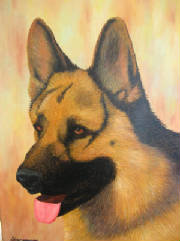 Michel Véronneau
Fox & Woodpecker on Slate 8x16 each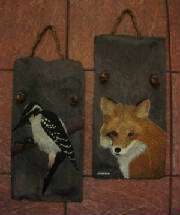 Michel Véronneau
Woodpecker Acrylic on Slate, 8x16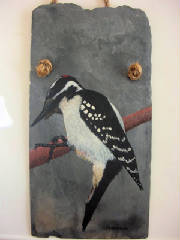 Michel Véronneau
Three polar bears - oil on canvas - 16 in x 20 in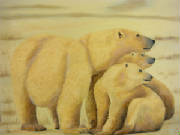 Michel Véronneau