Ginette Fontaine, Petits Fruits, 2012 5x5
Ginette Fontaine
technique mixte
Morin-Heights, Qc
Tel: 514.487.1435
Cliquez les images pour agrandir / Click images to enlarge
Plus Grand, 2012, 68x40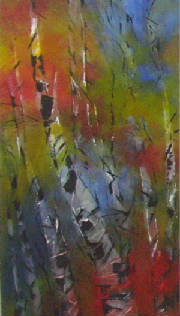 Ginette Fontaine
Ginette détient une formation en architecture et en aménagement de l'Université de Montréal, où elle a étudié avec le sculpteur Jordy Bonnet. De plus, elle a suivi des ateliers et des cours en dessin, sérigraphie, pastel et aquarelle au Centre des Arts Visuels ainsi qu'à Saydie Bronfman. Cette influence se fait sentir d'emblée dans ses oeuvres qui sont marquées par une structure forte, alliée à une simplicité de moyens.
Elle avance: "J'ai toujours aimé dessiner. Je considère que c'est la manière la plus directe de projeter mon énergie sur un support avec seulement le crayon, le fusain ou le pastel, non comme intermédiaire entre le papier et moi, mais une prolongation directe de ma main. La moindre variation de pression peut soit donner de la profondeur ou apporter une légèreté au rythme même de la perception des choses."
Ginette participe annuellement à différentes expositions de groupe dans la région de Montréal ainsi que dans les Laurentides.
Elle s'est jointe à Arts Morin-Heights en 2008.
Fruits 1, 2012, 24x30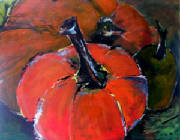 Ginette Fontaine
Ginette has a degree in Architecture and Planning at the Université de Montréal. She studied there under the tutelage of sculptor Jordi Bonnet. She also sudied and took workshops at the Centre des Arts Visuels as well as at the Saylie Bronfman Centre, refining her technique in drawing, serigraphy, pastel and watercolour.
Ginette says: " I have always enjoyed drawing as it is the most direct approach of laying down my energy, using only a pencil, a charcoal or a pastel, not as an intermediate between myself and the canvas, but rather as an extension of my very hand. The slightest variation of pressure can give depth or light to the perceived image of things."
She participates, annually, in group exhibitions in the greater Montreal area as well as in the Laurentians.
Joined Arts Morin-Heights in 2008.
Fraicheur d'été 2009, 24x20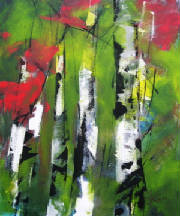 Ginette Fontaine
Arbres sur primaires 2009, 44x32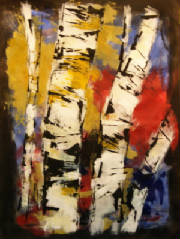 Ginette Fontaine
Fruits 2, 2012, 24x30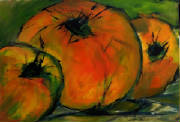 Ginette Fontaine
Grandeur nature, 2010, 40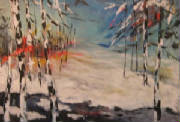 Ginette Fontaine
Arbres 2, 2012, 36x24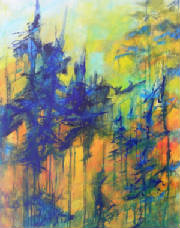 Ginette Fontaine
Monde forestier 2012, 32x32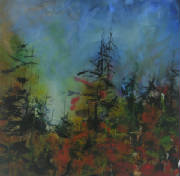 Ginette Fontaine
2012, 68x16

Ginette Fontaine
Ciel coupé 2012, 20x24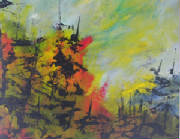 Ginette Fontaine