Buse à queue rousse, 2008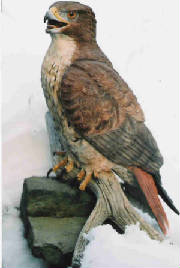 Andrée Schmekel
Andrée has a master's degree in French literature from McGill University as well as a B.A. in Fine Arts from Sir George Williams University. Prior to moving to Morin-Heights, she worked as an illustrator/photographer in Montreal. While she still enjoys painting, sculpting has taken over her creative mood in the past few years. Her paintings depict very personal ''dream-like'' imagery. Her sculptures, on the other hand, combine movement and action. Andrée also likes to carve birds. She is especially enamoured with hawks and owls.
She has traveled extensively, visiting Nepal, Patagonia, India and other exotic areas of the world. Backpacking through rugged terrain, photogra-
phing the local people and the natural wonders that surround her.
Andrée joined Arts Morin-Heights in 1987 and is a past President.
Visage du Maroc, 2008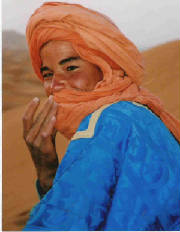 Andrée Schmekel
Andrée a obtenu une maîtrise en littérature de l'Université McGill ainsi
qu'un bac en Arts de l'Université Sir-George-Williams. Avant de s'établir
à Morin-Heights, elle fut photographe/imagiste à Montréal. Elle a voyagé beaucoup, visitant des endroits aussi exotiques que le Népal, l'Inde et le Patagonia. Caméra en main, elle capte le moment, l'image surréelle de ces
endroits si lointain ainsi que ses gens uniques.
Peintre de nature, elle préfère depuis quelques années, la sculpture.
Au fait, le travail de l'un se reflète dans le travail de l'autre. Son style est
très personnel, ces toiles dépeignant ses émotions cachées tandis que sa sculpture est pleine de mouvement. Enfin, la sculpture sur bois, traitant surtout d'oiseaux tels que l'aigle et le hibou, la définie comme une artiste polyvalente.
Andrée s'est jointe à Arts Morin-Heights en 1987 et en est une Présidente passée. Elle adore s'impliquer pour le groupe.
Envol 1, 2007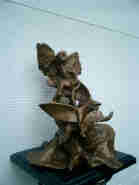 Andrée Schmekel
Envol II. 2007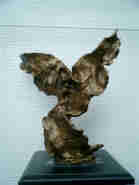 Andrée Schmekel
Sans titre, 2013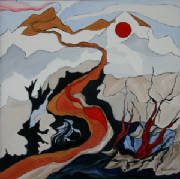 Andrée Schmekel