Welcome Home 2006, 20x24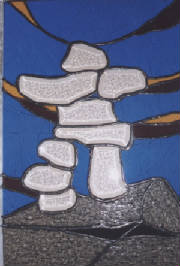 Betty Reymond
Betty found an interest in stained glass quite a few years ago. She mentions that, in the beginning, her work was done for her own experience and pleasure. As time went by, friends commissioned her for specific pieces to adorn their homes. Recently, her hard work and dedication paid off as the church of Notre-Dame-des-Nations, in Montfort retained her services to create six unique window pieces. Her artwork was finally recognized in her community.
Betty mentions: '' Glass is such a wonderfully vibrant medium. To hold a beautiful piece of glass up to the sunlight and see it come alive is an exciting feeling as an artist. I love the entire process, from choosing the glass, the cutting, the foiling, the soldering and finally, the polishing.''
She has shown in ongoing exhibitions in Wentworth-Nord/Montfort and, since 2005, with Arts Morin Heights.
Humming Bird Heaven 2009, 13 x 13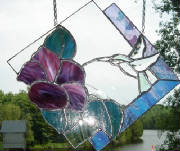 Betty Reymond
Betty s'intéresse au vitrail depuis plusieurs années. Au début, elle expérimentait avec ce médium pour acquérir de l'expérience et parfaire sa technique. Puis, voyant que ses créations étaient de grande qualité, des amis ont placé des commandes spécifiques. En 2004, l'église Notre-Dame-des-Nations de Montfort lui a demandé de créer six fenêtres, en vitrail bien sûr, Son travail ardu est finalement reconnu dasn sa communauté.
Betty nous dit: '' Le vitrail est un médium unique et très vibtant. Tenir un morceau de vitre au soleil et le voir briller est un sentiment bien spécial.
J'adore la totalité du processus, à partir du choix de vitrail, le taillage, le soudage et finalement, le polissage.''
Elle a participé à une exposition de groupe à Wentworth/Montfort en septembre de 2005. Betty s'est jointe à Arts Morin Heights en 2005.
Dragonfly Summer 2010, 12 x 12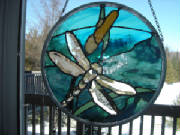 Betty Reymond
Happy Hallowe'en 2010, 9x7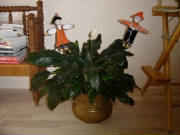 Betty Reymond
L'Été Laurentides 2010, 15x15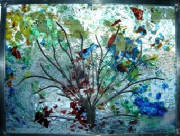 Betty Reymond
Ruby! Ruby! 2005, 14 x 14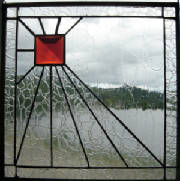 Betty Reymond
Je t'aime Québec 2010, 10x14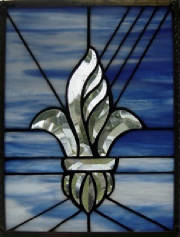 Betty Reymond
Exhibition 2009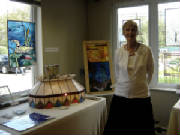 Betty Reymond
Way Home 2012, 16x24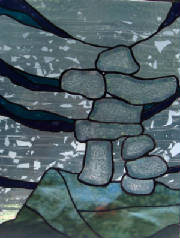 Betty Reymond
Sunny Day 2012, 15x15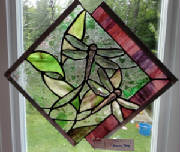 Betty Reymond
Silence 2012, 16x18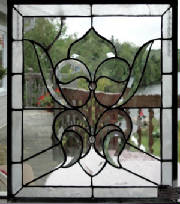 Betty Reymond
J'aime une marguerite 2012, 12x12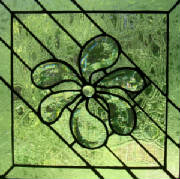 Betty Reymond