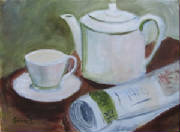 Sandy Cytrynbaum
Toronto-born Sandy Cytrynbaum was drawn to visual arts from adolescence on. She has tried her hand and enjoyed success in many media - pottery, clay sculpture, art-quilting, drawing and photography.
Sandy fell in love with the Laurentians when the family purchased a vacation home in Morin Heights. She began to photograph all the natural beauty around here. Her photo series, " Wildflowers of the Laurentians", was warmly received at a private Montreal photo show.
A year at Concordia in the Fine Arts department introduced her to painting. She currently continues her studies at the Visual Arts Centre and the Cummings Centre in Montreal, studying under well-known local artists Rita Briansky, Harvey Segal and Françoise Issaly. She has participated in the Cummings Centre Annual Art Show for the last three years.
Joined Arts Morin-Heights in 2011.
***************************
Spring Breakup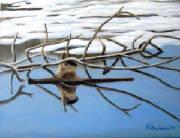 Sandy Cytrnbaum
Native de Toronto, Sandy s'intéresse aux arts visuels dès son adolescence. Durant cette période, elle expérimente différents médium tels que la poterie, la sculpture, le dessin et la photographie.
En visite dans les Laurentides, elle tombe amoureuse de Morin-Heights et y déménage en permanence. La beauté des paysages qui l'enveloppe la pousse vers la photographie. Sa série "Wildflowers of the Laurentians" est un succès à Montréal, lors d'une exposition en solo. Plus tard, elle s'inscrit aux beaux-arts de l'Université Concordia et parfait sa technique en peinture. Elle suit des ateliers avec des artistes locaux tels que Rita Briansky et Harvey Segal.
Expositions de groupe au Cummings Centre of Arts
S'est jointe à Arts Morin-Heights en 2011
Pender Island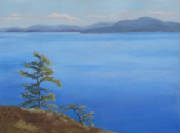 Sandy Cytrynbaum
From the Bridge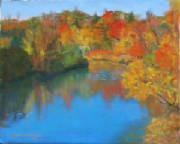 Sandy Cytrynbaum