Sylvie Plourde
artiste-peintre
Mont-Tremblant, Qc
Tel.: 514.946.2474
Cliquez les images pour agrandir
Click images to enlarge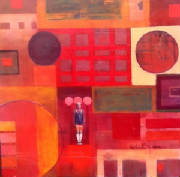 Sylvie Plourde-Molson
Née à Chicoutimi, Sylvie demeure dans les Laurentides depuis 1973. En plus d'être une sportive accomplie, elle a voyagé de par le monde durant plusieurs années, soit en parcourant l'Europe en vélo, soit en faisant parti d'expéditions en Antarticque et en Indonésie. Quant à sa démarche artistique, Sylvie s'est adonné au vitrail pendant plusieurs années avant de se consacrer à la peinture. Elle mentionne: "J'ai suivi des ateliers de peinture et collage avec Madame Midori-Yamada ainsi que l'acrylique avec Mme Caroline Archambault, puis des sessions de techniques mixtes avec Mia Sween entre autres. Mais, ce qui m'accroche le plus de la peinture est le besoin de jouer avec la couleur. J'y accorde toute mon attention, c'est ce qui me fait vibrer le plus."
Sylvie s'est jointe à Arts Morin-Heights en 2009.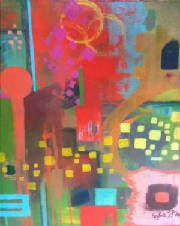 Sylvie Plourde-Molson
Born and raised in Chicoutimi, Sylvie has lived in the Laurentians since 1973. An accomplished sports woman, she has traveled the world in a unique fashion. Cycling in Europe, expeditions to Antartica and Indonesia are only a few of her endeavours.
As a young artist, Sylvie worked extensively with stained glass for a number of years before searching for a new medium. After numerous workshops, she found her passion in painting and collage. Sylvie says: " Painting has opened a whole new world for me. I relish at the thought of expressing myself through this medium. The feature that I express the most is colour. It can be bold and wild at times, or soft and discreet depending on my mood of the moment."
Sylvie joined Arts Morin-=Heights in 2009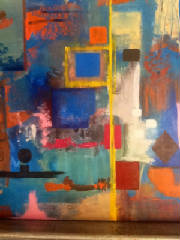 Sylvie Plourde-Molson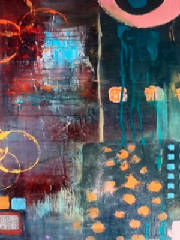 Sylvie Plourde-Molson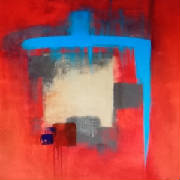 Sylvie Plourde-Molson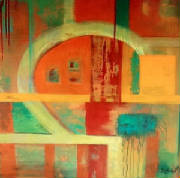 Sylvie Plourde-Molson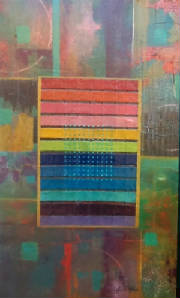 Sylvie Plourde-Molson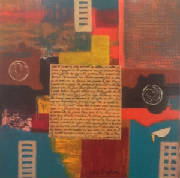 Sylvie Plourde-Molson