Peinture - verre ancien Painting - recycled glass
église Notre Dame de la victoire, P'tit Champlain, Vieux Québec
Ginette Mayer
Mille Isles, Qc
Tel: 450.432.0053
Peinture sous verre technique à linverse.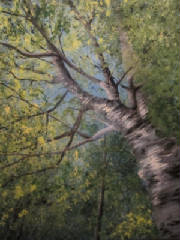 Ginette Mayer - Reverse Painting

GINETTE MAYER ARTISTE PEINTRE SUR/SOUS VERRE.
Artiste autodidacte, fascinée par la créativité et l'originalité. Ginette Mayer parvient avec Brio depuis qu'elle a innové, en 2002, en peignant SUR du verre ancien des veilles fenêtres surtout. Ses œuvres pleine de charme mettent en valeur le patrimoine, et lui ont valu de nombreux prix.
2010 fut une année pour une toute nouvelle collection, cette fois-ci SOUS le verre. Elles sont misent en évidence par sa simplicité du verre seulement. Contrairement à la technique régulière, elle crée dans l'ordre inverse, commence par la signature, les détails avant de terminer par les fonds. Le verre protège la création et lui donne un fini brillant attirant bien des regards et curiosités. On dit de cette technique, une difficulté de peindre à l'inverse et bien pour elle c'est une nouvelle passion sans difficulté.
Peinture sous verre technique à linverse.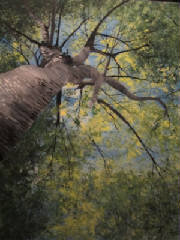 Ginette Mayer - Reverse Painting.
GINETTE MAYER ON OR REVERSE GLASS PAINTING.
Self-educated artist fascinated by creativity and originality. Since innovating in 2002, Ginette has found great success by painting ON recycled glass (mostly old windows). She has won numerous awards over the years. Her work is full of charm and features our heritage.
A whole new collection of paintings came to light in 2010 on the BACK SIDE of glass. The paintings are highlighted only by the sumplicity of the glass. Unlike the regular technic, the art work is created in the reverse order. Meaning she begin with her signature, then the details, to finish with the background. The glass protects the work of art and gives it a brilliant finish. It's eye-catching and attracts a great deal of interest. This technic is said to be difficult, however for Ginette this new found passion is effortless.