Mystère 1, aquarelle, 2007, 16'' x 20''
Arthur Gervais
Aquarelliste
Ste-Anne-des-Lacs, Qc
tel.: (450) 224-7827
La grange, huille, 2006, 16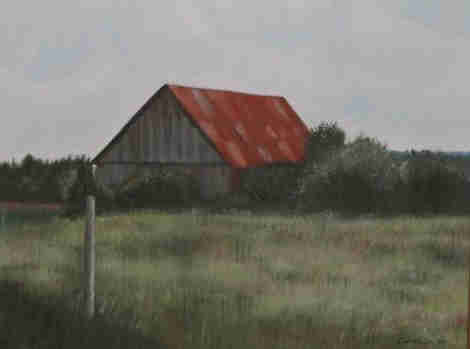 Arthur Gervais
Né dans le nord de l'Ontario, Arthur passera sa jeunesse en Abitibi où il découvre les joies de la nature à l'état sauvage ainsi que ses hivers rigoureux. Plus tard, tout en étant photographe, il porte son attention sur les beaux-arts, principalement le médium de l'aquarelle. Élève et ami de Jean-Paul Ladouceur (SCA), ses premiers tableaux illustrent ce qu'il connait de mieux, soit la forêt, la nature, l'hiver. Son mentor lui recommande alors de se concentrer sur ces sujets et de les développer constamment.
Arthur expérimente et pousse ses limites au maximum. Il travail en atelier de sérigraphie pendant plusieurs années avec un ami, Serge Lacroix. Ses méthodes sont, à l'occasion, de simples expériences avec l'aquarelle, la poussant au-delà de ses limites, cherchant de nouvelles techniques qui lui seront innovatrices.
Ateliers avec Gilles Archambault, SCA
Cours de dessin au Cegep Montmorency de Laval
Expositions de groupe à St-Sauveur et Morin-Heights
Membre de L'Association des artistes-peintres de St-SAuveur
S'est joint à Arts Morin-Heights en 2004.
Mystère II, aquarelle, 2007, 10'' x 12''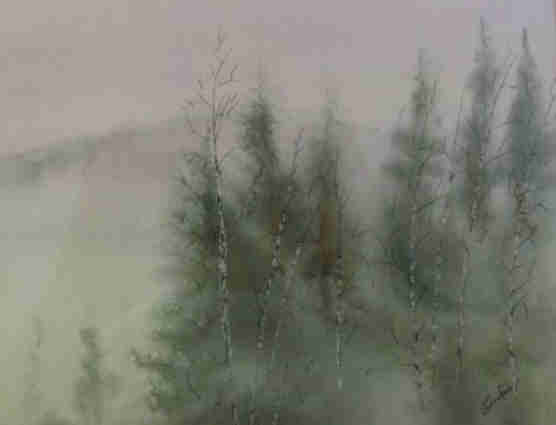 Arthur Gervais
Born in Northern Ontarion, Arthur was mostly raised in the Abitibi region of Quebec. It is there that he discovered the excitement of the wilderness and its difficult winters. Later, working as a photographer, he discovered the fine arts. Experiments withdifferent mediums led him to acquire a
foundness for watercolours. Hence, he became a student and a friend to his mentor, Jean-Paul Ladouceur (SCA). Arthur's first sketches and paintings reflected what he knew best: nature, wilderness and winter. Discussing Art with his friend, Jean-Paul, the later suggested that he stay focused on this theme and devolop it thoroughly. Arthur has done so with tremendous success.
Workshops with Gilles Archambault, SCA
Sketching courses at Cegep Monmorency oin Laval
Group exhibitions in St-Sauveur and Morin-Heights
Member of the Association des artistes-peintres de St-Sauveur
Joined Arts Morin-Heights in 2004.
Mystère III, 2006, aquarelle, 5''x7''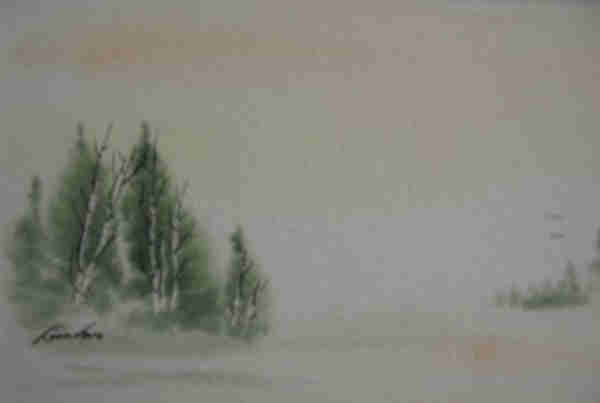 Arthur Gervais
L'automne, 2006, aquarelle, 6''x10''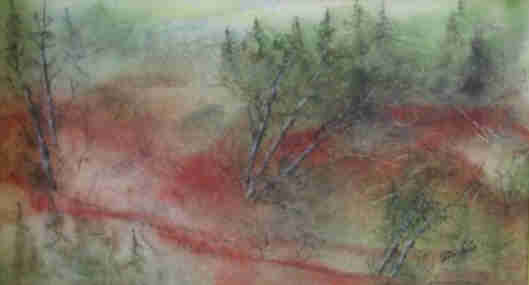 Arthur Gervais